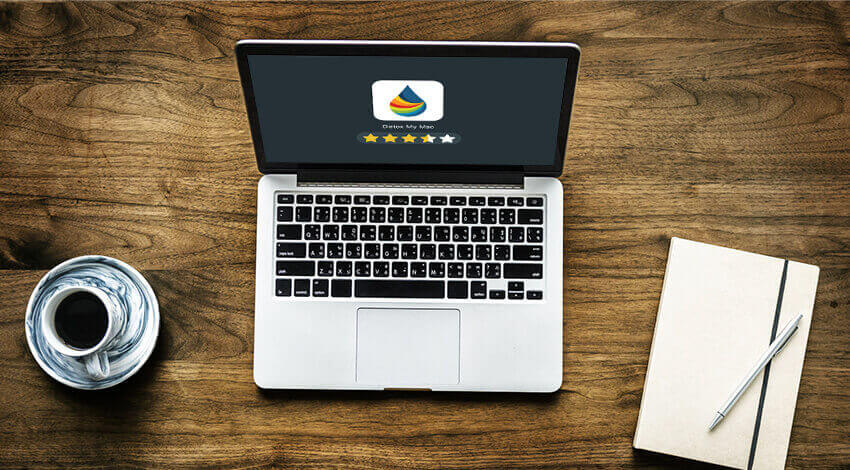 Detox diets have become extremely popular among health enthusiasts of all hues and stripes. Given the popularity and the undeniable appeal of detoxing, it can be argued that it's not a fleeting fad; it's here to stay. While it is smart to look after your body, it also never hurts to take good care of your Mac. The computer will benefit immensely from a cleaning, which will flush digital toxins out of it. However, a caveat is due here: the cleaning must be safe. When trying to get rid of software detritus that acts like cement shoes for the Mac, you should be extremely careful because you can inadvertently delete important system files. At this point, you must be wondering "How to not suck at detoxing my Mac?" The answer is plain and elegant (and kinda redundant): get a professional cleaning utility Detox My Mac. The app is comprised of several useful tools allowing to quickly remove all junk from your hard drive.
Detox My Mac Pro: What Is It Good For?
A confession: I used to be a huge offender with regards to turning my Mac into a graveyard for digital rubbish. A hard drive of my computer was chock full of plists, useless localization packages, and launch daemons among others. But the times have changed after I had installed Detox My Mac… well, on my Mac. It's not a hard nut to crack: you will also be better off using the utility. Let's get to the meat of the matter and review Detox My Mac.
When you find yourself constantly looking for files and folders to delete on your drive to free up some space for new apps, that's a clue that you need Detox My Mac Pro. The good news is that the app helps to remove useless files from a Mac while keeping valuable files intact. Just download and install the app and you will no longer go through a cumbersome and time-consuming cleaning process where you have to decide what to keep and what to toss away. The app will do it for you.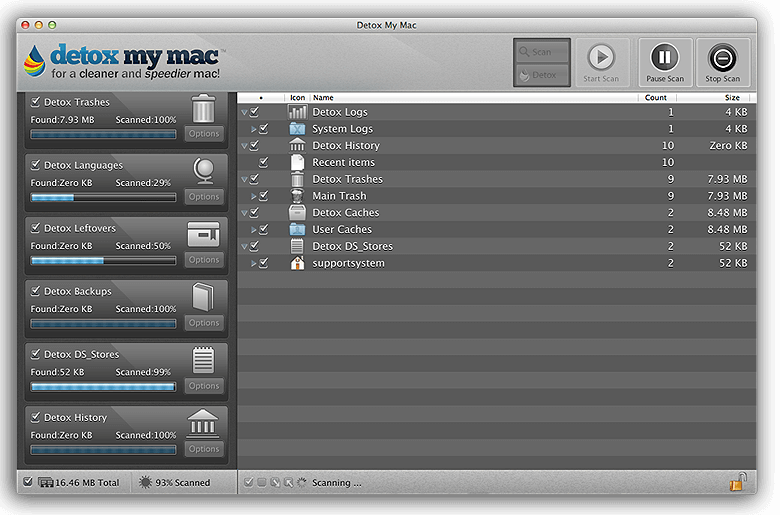 So, what kind of files are deleted by Detox My Mac? For starters, the app removes software leftovers. Deleting them manually is a hard row to hoe. You would have to carefully comb through your drive looking for startup items, preferences, support files, receipts, launch daemons, and other digital scrap. Therefore, it is better to take the passenger seat while Detox My Mac quickly sweeps through your Mac and makes it cleaner. The app also deletes unused language files, thereby freeing up valuable disk space that may be used for other purposes. The cleaner skillfully blasts away cache files that can considerably deteriorate the performance of the Mac. Although Detox My Mac takes a few seconds to remove history and archives, let me, please, assure you that those seconds are well spent. After cleaning files that accumulate with browsing, the download time of most web pages will be cut in half or even more.
Pros and Cons of Detox My Mac
The chief benefit of the utility is an intelligent subroutine that scans a computer and finds potential candidates for eviction. The execution of the background scanning doesn't affect the normal functioning of the system, which is exceptionally important for older Macs. The attractive and simple interface is also a huge plus of having Detox My Mac. Just use it for a minute, and you will agree that the app has been designed with the user in mind. To detox caches, archives, reports, logs or app leftovers, simply select a needed option from a sidebar of the app and click the OK and Detox buttons. That's it. Another benefit worth mentioning is a transferable license.
The use of Detox My Mac is also associated with some drawbacks. Although it's not a laundry list of cons, the few that are there can be important for some users. Specifically, the app sometimes removes important preference files such as those that are used by Adobe Photoshop. Furthermore, the cleaner doesn't keep logs of deleted files, which makes it difficult to restore important data that has been mistakenly removed. Detox My Mac is also incapable of removing useless system processes.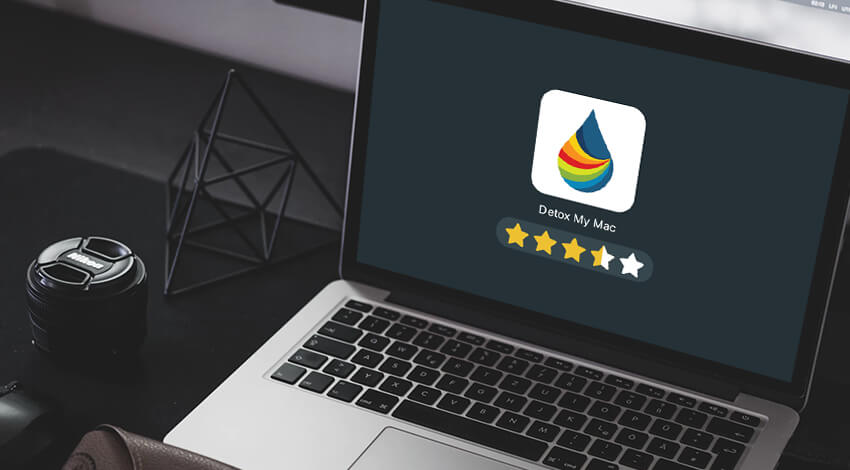 Detox My Mac Pro Download
Now, that you are (hopefully) pumped to use Detox My Mac, you need to know how to download it. Although you cannot try the app for free, you can purchase it for $24.95. By paying the one-time fee, you will get a license that never expires. You can download the app by either following this link or going to the official developer's website and using the Download Now button. Detox My Mac is compatible with older Mac OS X versions such as Mountain Lion and newer ones such as macOS Sierra.
The Bottom Line
Overall, Detox My Mac is a solid cleaning utility. It will keep your Mac clean and provide you with some additional space. If you don't care about losing some preference files after clicking the Detox button, you should definitely download and install the app. However, there are better alternatives on the market that come at a similar price.
Related Post: Ways to Remove Detox My Mac and Its Remnant Data Completely